CAREERS
A place where dreamers do
Great River Energy is where passionate, driven, strategic thinkers come to dream about the future. Together, we're pushing the boundaries of what's possible to build a better world for people and their ideas, businesses, everyday lives and lifelong goals, today and every day.

Sound like something you want to be part of? Come join us.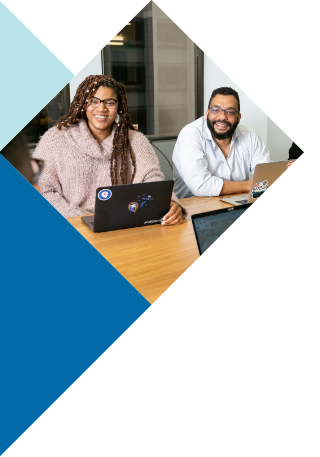 DIVERSITY & INCLUSION
Your perspective is powerful
To do what's never been done before, we need to think differently. We seek out people with unique backgrounds, unique skillsets and unique perspectives who want to help shape what's next. And to empower every individual, we intentionally foster an environment that:
Celebrates our differences.
Recognizes individual strengths and achievements.
Supports people so they feel confident in growing, learning and sharing.
BENEFITS & PERKS
We don't just say people matter—we show it
Generous PTO, development opportunities, 401(k) matching and more. We care about our employees, so we offer ways to support them both at work and beyond.
Our commitment to employees
INTERNSHIPS & APPRENTICESHIPS
Build a career that excites you
Grow your knowledge of a fast-paced industry where you can make a real impact. You'll gain hands-on experience, develop essential skills and create valuable connections.
More about these opportunities
RECOGNITION
Our award-winning culture
Honored to be recognized for creating a space where people thrive.
Named a Best Place to Work for LGBTQ Equality by the Human Rights Campaign.
Ranked a Healthiest 100 employer for the 5th
year in a row.
A Beyond the Yellow
Ribbon company.
Lastest Achivements
Proud of those who help us pave the way forward
Great River Energy is an equal opportunity employer

We strive to include all employees regardless of work experience, educational
background, marital status, generational differences, sexual orientation, gender identity,
personal habits, income, work location and union/non-union affiliation.
In addition, we pride ourselves on being a veteran-friendly employer.

If you are a qualified individual with a disability and need assistance with your application for employment, please contact us via 763-445-5000 or Careers@GREnergy.com